Solve the Code!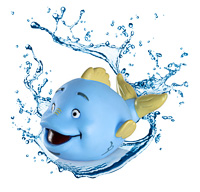 Ready to Solve? Completely fill out the form below, including the completed code from your decoder card and redeem your prize from PARI.
CURRENT PRIZE: Bubbles Bath Toy* (shown right)
Make sure you enter the code in exact order (from left to right / top to bottom) as it appears on your decoder card. Do not use any spaces.
*Prizes available only while supplies last.
Limit one toy per patient, two toys per household, for US and Canada residents only.
Subject to contest rules at the full discretion of PARI Respiratory Equipment, Inc.
Customers must provide a valid PARI Compressor Serial Number to be eligible (located on the bottom label on the outside of your PARI compressor).
Giveaway to expire at PARI Respiratory Equipment, Inc.'s discretion unless otherwise stated.